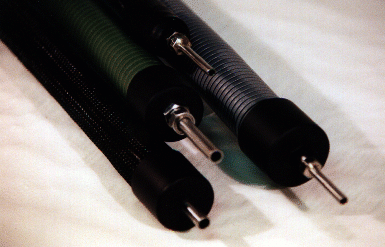 Download our Product Info Sheets or Request A Quote.
Heated Sample Lines
Request Heated Sample Line Quote
---
For 22 years, UNIQUE has been developing methods to provide highly accurate heated lines for a variety of applications. UHPI can provide heated lines for your exact needs and are more than willing to add options and custom configurations to any of the state-of-the-art products we offer. Please feel free to e-mail or call us with your specific questions.

UNIQUE's first product line was an array of heated lines for Emissions Sampling. These products arose from a need for highly accurate and durable sample transport mechanisms called for by the Federal Government's mandates for Automotive Emissions Testing. Our heated lines exceed these specifications and have an excellent track record for longevity and ease of use. You'll find UHPI heated sample lines in Dynamometer Laboratories and Engine Test Cells throughout the world. UHPI counts almost all of the worlds major auto and diesel manufacturers as our clients.

Our heated sample lines have been used for CEMS, as well as testing for HC, NOX, HCL, VOCs and other constituents. Our products may be found at facilities such as incinerators, co-generation plants, Superfund remediation sites, and waste water treatment plants from California to New York and beyond.

UHPI's heated sample lines are manufactured to your specifications and may be any length, size and voltage needed!
---
TEMPERATURE STABILITY IS THE KEY
All of our heated sample lines are manufactured with the highest degree of quality. We use a proprietary heating element and superior insulations to maintain a very high degree of thermal accuracy across the entire length of our lines and hoses. Our heating elements are applied with a minimal gap between wraps around our hoses. This creates an even, gentle heat and a very high degree of thermal stability in all of our products.
We also offer several accessories to support our zero tolerance for cold spots at all component junctions.
Please click here for solutions to these difficult problems.
---
LINE EXTERIORS
Whether you're looking for durability, extreme temperatures, high flexibility, water resistance, reduced weight, or even hazardous location ratings, UHPI has an exterior sleeving to suit your needs.
Please call us toll free at the number below or click here for a list of available exterior sleeve material.
---
STANDARD MODELS AND RESOLUTIONS
Series 1 lines are our lines for those on a tight budget. They provide a fairly accurate temperature resolution across their length and are best suited for applications where maintaining a temperature above dew point is your main requirement. They are available with all of the same options as a Series 2 or 3 line and, depending on the application, may be operated to 400° C.
Series 2 lines are the recommended lines for use with instrumentation. They have good temperature stability and accuracy throughout the sample stream. They are an excellent value in instrumentation lines and, depending on the application, may be operated up to 400° C.
Series 3 lines are the line of choice when you are seeking the LOWEST POSSIBLE TEMPERATURE VARIANCE across the length of the line. They are available with all of the options of a Series 2 and, depending on the application, may be operated to 400° C.
---
SAMPLE TRANSPORT TUBES
You may select from a wide range of internal sample tubes. PFA TeflonŽ, and 316 Stainless Steel are the most common, but Nylon, Silicone, VitonŽ, Copper and other materials are available. All UHPI heated sample lines with stainless steel, TeflonŽ, VitonŽ Nylon and Silicone sample tubes arrive with stainless steel tube stubs for inlet/outlet ports unless otherwise specified. This makes for a more durable connection than other heated lines on the market today. Any standard types and sizes, English or metric, of tubing may be used in the manufacture of our lines, including custom connections to suit your needs..
---
VOLTAGE
UHPI heated lines may be designed to work on almost any voltage. The operating voltage must be determined before placing your order. Do not operate any product on a voltage other than the one specified without first consulting the factory.
---
SENSORS AND CONTROLLERS
UHPI's heated products utilize a temperature control device to maintain the proper temperature. This may take the form of an internal thermal switch for low-resolution products, or an external temperature controller for more precise temperature control. Using external controllers ensures that the device will react quickly to changes in internal media or external conditions.
A sensor built into the heated device sends a signal to the controller which, in turn, regulates the device. The type of sensor dictates the controller used. Please make a determination as to the type of sensor needed before placing your order. To see the standard sensors that are available, please click here.
---
OPTIONS
UNIQUE has made its reputation by accommodating customers' individual needs. UHPI looks forward to adapting our products to your specific requirements or developing new ones for you as your needs evolve. Please do not hesitate to contact us with any application you may have. Click here to see product options.
Download our Product Info Sheets or Request A Quote.