Sample Dryers & Chillers
UNIQUE HEATED PRODUCTS, INC.'s
(
UHPI
's )
Sample Dryers evolved from a need to remove humidity from a sample stream quickly and efficiently. Our system uses a two-stage process which drops the sample's temperature twice, removing moisture in two individual trap assemblies.

UHPI's dryers are all designed to be rack-mounted in standard 19" racks. An accessory peristaltic pump tray may be mounted away from the dryer in a convenient location. This increases the adaptability of the system to fit into a variety of situations.
The accessory pack also includes the first stage air-to-air stainless steel cooling coil and initial trap separator.

All dryers are manufactured with your choice of one, two,three, or four sample streams. Units may be ordered with or without rack mount angles.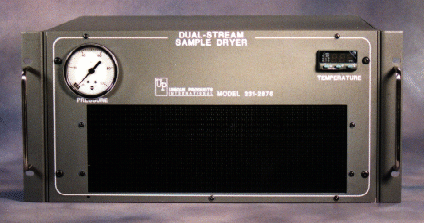 331-2871 Dual-Stream Dryer

You may also download Product Information Sheets

or Request A Quote

Sample Dryers & Chillers

SPECIFICATIONS - 1/4" SAMPLE STREAM DRYERS

331-2886 - Single Stream Dryer (Uses Single Stream Accessory Pack 131-2886)

331-2876 - Dual Stream Dryer (Uses Dual Stream Accessory Pack 131-2808)

331-2887 - Triple Stream Dryer (Uses Triple Stream Accessory Pack 131-2887)

331-#### - Quad Stream Dryer (Uses Quad Stream Accessory Pack 131-####)

Dimensions:

: 16W x 15D x 8.75H (inches) 20D with 1st stage trap separators installed. Designed to fit into a 19" rack cabinet with angles installed.

Mounting: Free standing or Rack Mount.

Weight: 45 lbs

Condenser: Four (4) Tube copper, aluminum finned radiator, forced air type.

Sample Stream: 20 ft long x 1/4" OD .030 wall 316 stainless steel (per stream).

Coolant Type: R134A refrigerant.

Operating Specs.: -20° to +115° F ambient conditions.
0-100 SCFH max. sample flow rate.
0-100 PSIG max. pressure
50% minimum reduction in Relative Humidity.
34° F normal sample operating temperature.

Electrical: 120 VAC, 60 Hz, Single Phase, 6.5A.

SPECIFICATIONS - 3/8" SAMPLE STREAM DRYERS

331-2885 - Single Stream Dryer (Uses Single Stream Accessory Pack 131-2885)

331-2579 - Dual Stream Dryer (Uses Dual Stream Accessory Pack 131-2876)

331-2290 - Triple Stream Dryer (Uses Triple Stream Accessory Pack 131-2290)

331-#### - Quad Stream Dryer (Uses Quad Stream Accessory Pack 131-####)

Dimensions:

: 16W x 15D x 10.50H (inches) 20D with 1st stage trap separators installed. Designed to fit into a 19" rack cabinet with angles installed.

Mounting: Free standing or Rack Mount.

Weight: 68 lbs

Condenser: Four (4) Tube copper, aluminum finned radiator, forced air type.

Sample Stream:

20 ft long x 3/8" OD .030 wall 316 stainless steel (per stream).

Coolant Type:

R134A refrigerant.

Operating Specs.:

-20° to +115° F ambient conditions.
0-100 SCFH max. sample flow rate.
0-100 PSIG max. pressure
50% minimum reduction in Relative Humidity.
34° F normal sample operating temperature.

Electrical:

120 VAC, 60 Hz, Single Phase, 6.5A.

You may also download Product Information Sheets or Request A Quote

Request a Sample Dryer & Chiller Quote